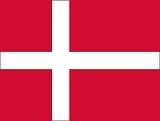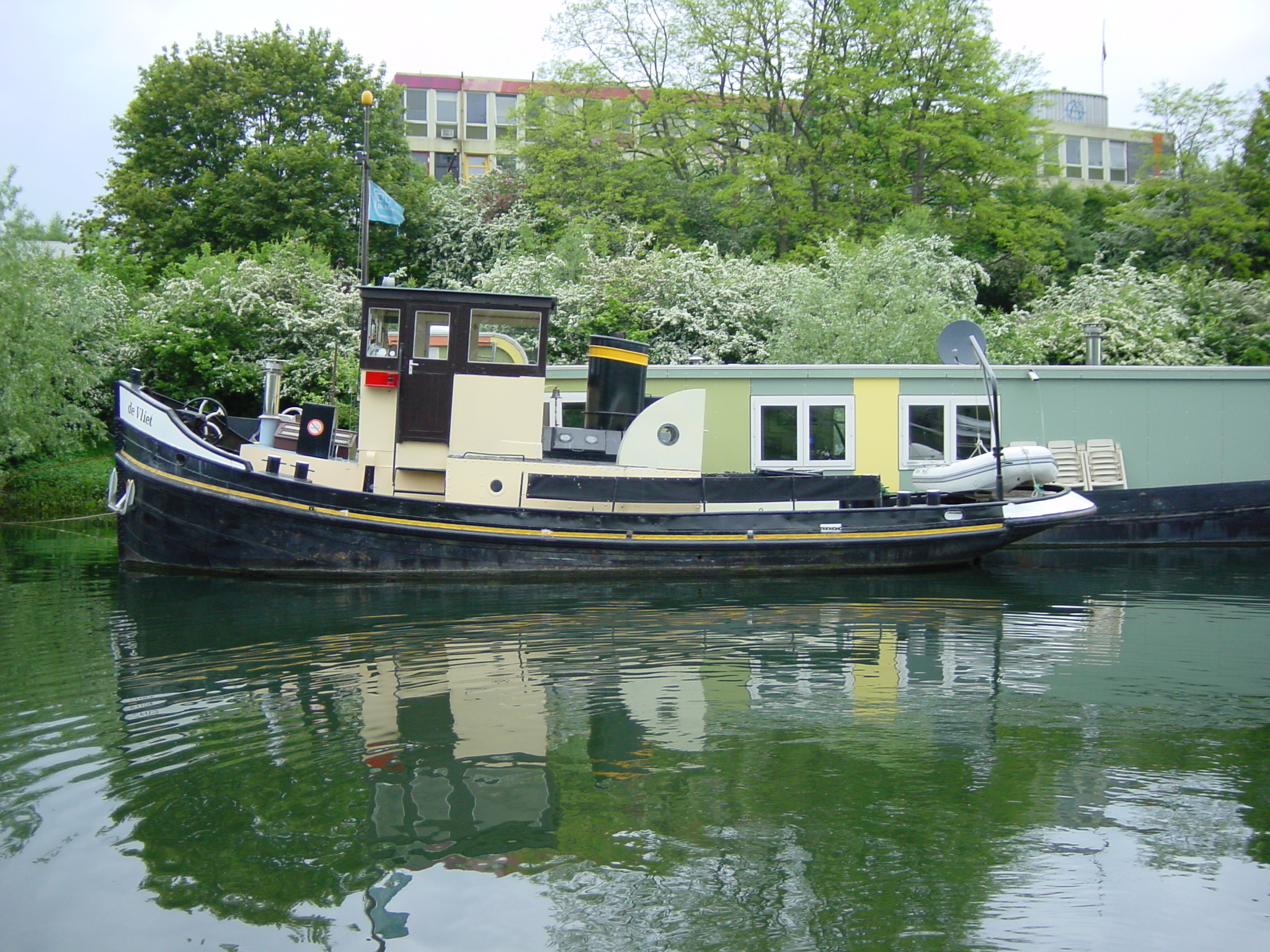 De Vliet, 2001
Therefore, we had to make a restoration-plan white out pecific historic details. First step was to record al details en make a list of items that where working properly and could be re-used. Second step, we made a rebuilding plan. This first rebuilding plan was based on a tug-like appearance. We had drawings made and all. We where not very happy with the results. Bad parts in the deck forced us to make a decision and go on. In January 2003, we started taking the boat apart. During the break up, we took many photographs. This way we could make sure not to lose the historic details.
Under the steel deck we found a wooden deck. Beneath the wooden deck there was another steel deck. We knew that in the rear of the ship there was still the old flat tail-end under the round tug-tail. During the break up, we could see the real shape of the old hull for the first time. Further more we found details like the riveted chainplates and the rivets in the plating under the waterline. These rivets are to close up the old fish-well. The shape, the proportion and fullness of the hull do not mach the normal tug dimensions.
All and all we concluded that our ship had been a fishing-vessel: a sailing fishing cutter of approximately 41,50 feet long and 13,78 feet over the beam. At that moment, we decided to restore her as a sailing vessel again, as she must have been circa 100 years a go.
So we made new plans and drawings. At this stage, we could see her altering from the ugly duck into a swan like in the fairytale.
To make it also a comfortable and useful ship we decided fit her whit a deck housing.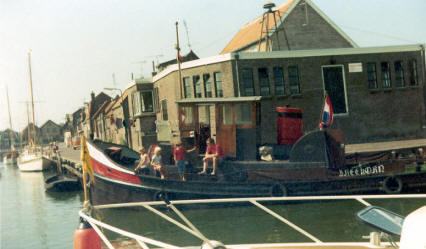 Breehorn, 1977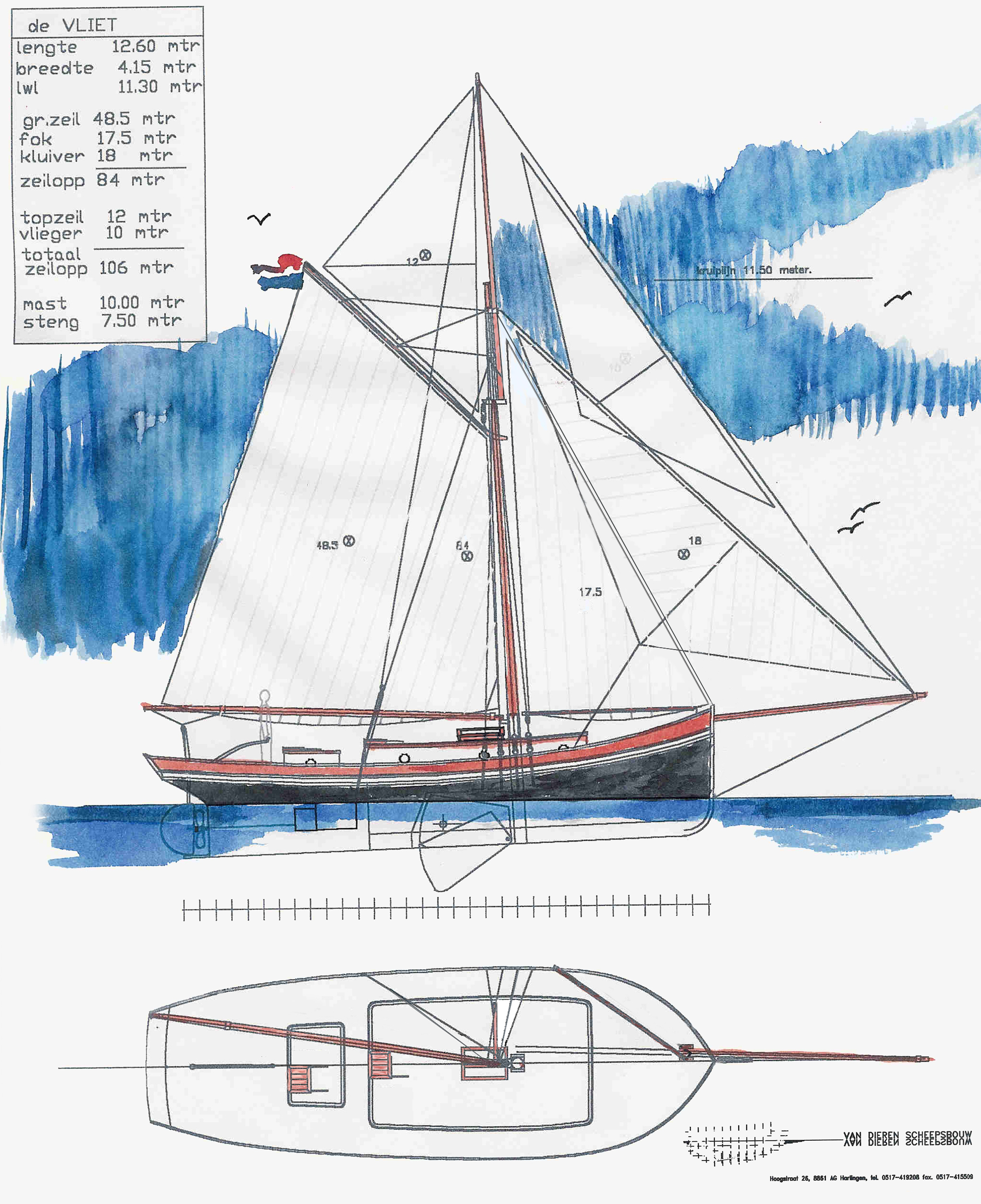 Design cutter De Vliet 2002
2. List of (pervious) owners
Datum

Scheepsnaam

Eigenaar

Bijzonderheden

Document

1918

Henny OB 66

Martin Deharde Brake, Unterweser, Duitsland

11,0 x 4,4 x x1,5 m - 25 PS

Werf Heinrich Brand, Oldenburg Duitsland. bouwnummer 27 Fischerei-Almanch 1921-1922

1926
Henny
Franz Habich, Borkum
Handbuch 1926

1927
Henny

Domanenrentamt Norden

Handbuch 1927

1933
Henny

Domanenrentamt Norden

Staatsfarhzeug
Handbuch 1933

1936

Henny

Domanenrentamt Norden

Deutz type SOMZ 122, 2 cil, 36/40 pk, no. 327445/46

Handbuch 1936

1952
Henny

Domanenrent- und Bauamt, Norden

Handbuch 1952

1953

Henny

W. Vos, Groningen

Deutz type SOMZ 122, 2 cil, 36/40 pk, no. 327445/46 (bj1936) 12,62 x 4,45 x 1,15 (0,41)meter, 6,293 ton

Meetbrief G8367N, N2971B.Gron

1955

Henny

H. G. Vos, Groningen

sleepboothek aangebracht. Lengte oa was 12,62m, na verlenging: 13,15m

Deutz, F6M517, 120 pk

N2971B.Gron

1957

Gerihal

Mr. W. van Meer, Harderwijk

Mercedes Benz, 6 cil, 225pk, No. 750042

1958

Gerihal

mr. W. van Meer, Harderwijk

Meetbrief R23050N

1959

Arjen

F. Duiker, Beverwijk

Daimler Benz, type 67/8, 4 cil, 140 pk, no. 70813

1966

Breehorn

J.G. Voorbij, Beverwijk,

1972

Breehorn

A.J.J. Sterk, Muiden

1976

Breehorn

T.G.W. Groeneveld, Aalstmeer

13,15 x 4,42x x 1,16 meter, 10,563 ton

Meetbrief A24784N N7883 B. Amst 1978

1978

Breehorn

A. Schulz Le Févre, Dronten

1988

Ribbemoos II

H. Godefrooi, Rijpwetering

1995

Ribbemoos II

M.B. Leeuwerke, Oud Alblas

Daf DH 825A, 6 cil, 132 pk, no. D43047

1998

De Vliet

Berdie en Corrie de Ruiter, Rheden

2002

De Vliet

Berdie en Corrie de Ruiter, Rheden

Sleepboothek er weer af in 2002 De lengte is nu 12,65m.
Do you have information on the vessel please contact us by email.
Sorry, Further information is only in Dutch available

Why a website about De Vliet?
Like many owners of old ships we where not only interested in the boat it self. We where also curious about the history of our boat.
Where had she spent her working life?
And who sailed with her?
When we bought the boat the previous owner, family Leeuwerke, told us the history, as they knew it. However, when we encountered more people who had owned the ship before their stories seemed to be different and where not fitting in to a complete story.
One goal of this website is to put all facts into perspective. On the other hand, we wanted to restore the hull whit respect for the history and as close to the original as we could get her.
Back until 1953, we could trace the previous owners. Before this date we do not have any documents to confirm the stories we where told.
We placed articles in all the leading boat-magazines for water-sport en for professional boating in Holland. We got track of all the owners of the period to 1963. Before 1953, the different story's told us that the government owned her from the W.W.II on. This period and the period before W.W.II is still vague. We are not even certain if she was build in the Netherlands. Same tales tell us that the boat came from Germany, during W.W.II. The appearance did not altered very much between 1960 and 2002